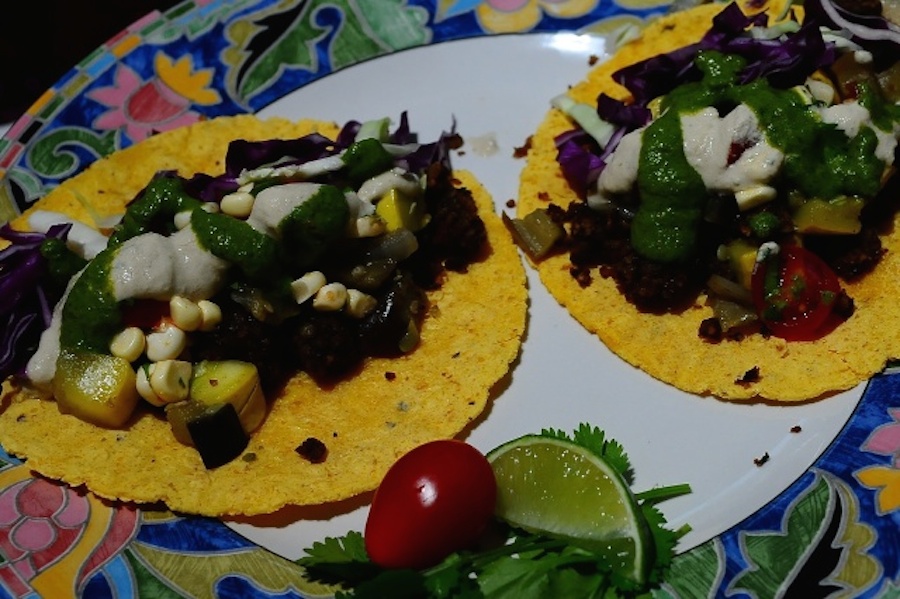 A versatile vegan "meat" that can be used in a variety of ways. Use with my vegan taco recipe, in a tortilla,  wrapped in a romaine lettuce or collard green leaf. Add vegetables of choice and you have a delicious high-protein alternative to meat.
Ingredients
1 1/2 cup cooked lentils
1 cup toasted walnuts
1-2 cloves garlic
1 1/2 teaspoons dried oregano
1 1/2 teaspoons ground cumin
1 1/2 teaspoons chili powder
1/2 teaspoon sea salt
4-6 tablespoons olive oil
1-2 tablespoons water
Instructions
Rinse and drain 1 cup dry lentils (I like the green french lentils or black lentils).
Cover with water and cook until done; approximately 20-25 minutes.
Combine cooked lentils, garlic cloves, walnuts, spices and pulse to combine.
Add oil and water

gradually

until mixture is combined and crumbly.
Notes
I often make this ahead of time and when I'm ready to use, I spread the "meat" on a cookie sheet and warm in oven approximately 300 degrees. This will also take a little moisture out if it has gotten too wet.
http://www.kscopewellness.com/vegan-taco-meat/
Copyright 2014 Kaleidoscope Wellness. All Rights Reserved.