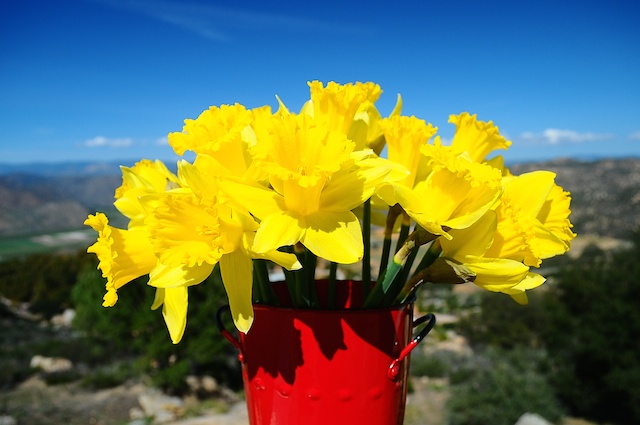 Last week I went to Joshua Tree National Park for the first time. It is a fascinating place; filled with weathered rocks that take on shapes, spiky Joshua trees, and colorful desert flowers that spring up this time of year. As I hiked through the desert, I was amazed at the variety of flowers that seem to spring up in the strangest places. Even in this dry and barren landscape, nature finds a way to renew itself every spring.

These tiny, tenacious blooms made me think about the seasons and how I've always loved spring. I love the newness of everything. When I lived in Colorado, nature truly went into hibernation for the winter and in spring the bulbs would pop up and the tiny green leaves would start showing up on the stark branches of trees and bushes.
We also go into hibernation to some degree in the winter. The days are shorter, colder and darker and we are less active and hunker down more at home. Perhaps we put on a few pounds (I always called this "my winter coat"). But with the coming of spring, our bodies and minds awaken. We take off our winter coats, get outdoors more and start to feel a new sense of energy and vibrancy. We can't fight this urge any more than the bulbs underground or the buds on the trees.
Even living back in San Diego, where the seasons are less extreme but still apparent, that feeling of wanting to renew is there. Perhaps we start purging excess "stuff" (cleaning out cupboards and closets) and start thinking about eating healthier and lighter. I always honor myself and my body by doing a food-based cleanse this time of year.
Spring is in the air and it's time to shed the extra layers, get outside, take care of ourselves and lighten up!
Stay tuned for my "Spring into Summer" cleanse program which I will offer soon.