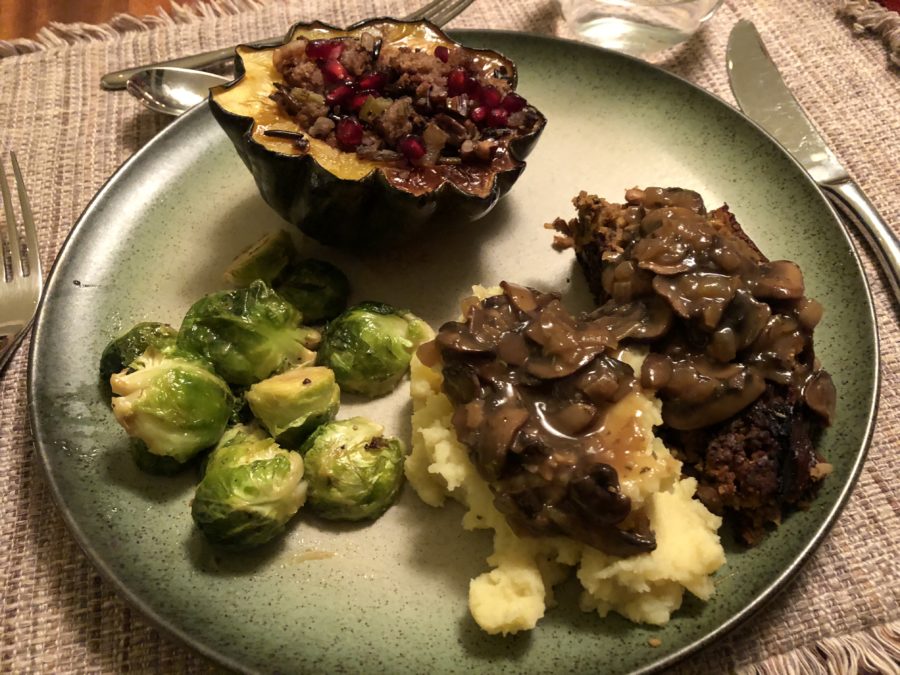 At the beginning of the year, I made a commitment to go "Plant-based" (yes, completely vegan…no animals or animal products) for at least a year. I had been gradually reducing any animal products and most processed foods from my diet. I naturally eat fresh, local and whole foods, so going "all-the-way" was pretty easy. I'm in no way "perfect" or super strict… I occasionally do eat honey and have probably cheated without knowing it. This way of eating works for me. I feel great, have tons of energy and LOVE preparing and cooking plant-based meals.
On Thanksgiving, I made a 100% plant-based feast. I had so much fun planning the menu, organizing and preparing the meal. It really wasn't that much different then your typical American Thanksgiving fest….minus the turkey!
The first course was a Thai sweet potato and carrot bisque and a wilted winter salad which was topped with mushroom "bacon", roasted sweet potatoes, pumpkin and pomegranate seeds.
The main event included a savory lentil loaf topped with mushroom gravy, wild-rice stuffing inside a baked acorn squash, mashed potatoes and Dijon-maple roasted Brussels sprouts. To round out the main course I served herbed coconut biscuits with herbed butter.
The grand finale was a raw pumpkin cheesecake served with salted-caramel coconut ice cream drizzled with a salted-caramel sauce. Divine!
I'm thankful for so much! I have a wonderful home, amazing family and friends and extremely good health. I'm also grateful to be able share my love of cooking with others.
What is it you're thankful for? Leave your comments below.
If you would like the recipes for any or all of these items, please send me a message via my contact page. If you need to go bit further and want preparation advice or something more involved, I am available for paid cooking consultations by appointment. I'd be happy to assist. Happy Cooking!
Antoinette
SaveSave