October 7, 2013
Antoinette Bodeau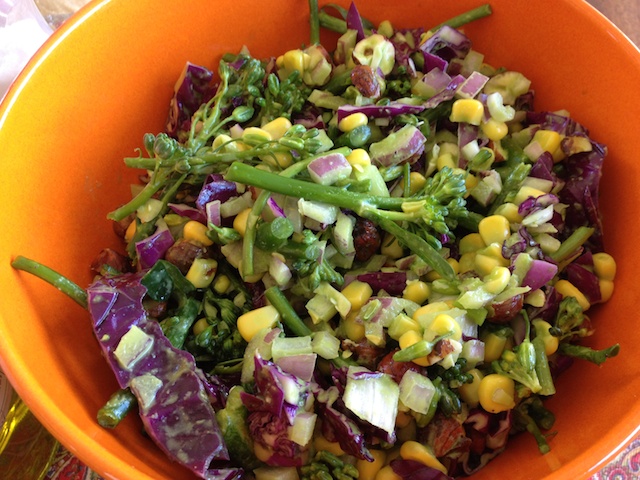 Broccoli and Kale on a Bed of Red Cabbage
Ingredients
Marinade

 2-3 handfuls kale, destemmed
 3/4 cup mix of sesame oil and grapeseed oil
1/2 cup water
 3 tablespoons lemon or lime juice
 2-3 garlic cloves
 2 teaspoons Bragg Liquid Amnios, Nama Shoyu, or 1/2 teaspoon sea salt
 Cayenne

Salad

1 ear of corn or 3.5 ounces of frozen corn defrosted
1/2 head of broccoli florets(baby broccoli works well)
1 handful of chopped red cabbage
1 small red onion, chopped
red cabbage leaves
2-4 tablespoons chopped hazelnuts
Instructions
Marinade

Mix all the ingredients for the marinade and blend until creamy and green. Add cayenne to taste.

Salad

Cut corn kernels off the cob and put them in a bowl with the broccoli florets, red cabbage, and chopped onion, and toss with the marinade. Let it rest for about 2 hours or more.
Place the cabbage leaves on a plate and arrange the vegetables on top. Garnish with nuts.
Notes
 The recipe makes quite a bit of marinade. I use about half and have enough for another batch or pour it all on the salad and toss to marinade and strain before serving. Will keep for up to 3-4 days.
http://www.kscopewellness.com/broccoli-kale-red-cabbage/
Copyright 2014 Kaleidoscope Wellness. All Rights Reserved.